Direct mail is a marketing tactic that involves sending a physical letter, package, mailer, brochure, postcard, etc. to your prospects and/or current customers advertising your products and services. It's used in both B2C and B2B selling, although more commonly with consumers
ADVANTAGES OF DIRECT MAIL, AND DISPELLING SOME
MYTHS
Direct mail has better response rates than most digital formats. Research conducted by the Direct Marketing Association (DMA) found that direct mail generates a 4.4% response rate compared to average email response rate of 0.12%.
And a recent study by RetailWire found that direct mail stays in the home for an average of 17 days (in which it could reach other household members increasing its reach) compared to just 2 seconds for an email.*
Targeted and Personalised
Direct mail is a great way to send out highly targeted marketing to your consumer group. If you have the consumer data, use it! Literally, get your company and message in front of the right people.
Direct mail also allows you to get personal, as each piece of direct mail can contain personalised and targeted messages. You can utilise insights from your database, like previous purchases, to craft a message that is specific to that person, designed to appeal to that person specifically making them feel special and your mail piece memorable. Thus, increasing your likely response rate.
The success of your direct mail can also be easily tracked, measured and reported on. By placing a call to action on your direct mail with a trackable code that customers can use online (or in-store), or QR code that can be easily tracked means that results can be easily collected.
You could also create Personalised URL (PURL) to both track traffic but also to create a bespoke and personalised experience for the consumer (spoiler alert, more on that below)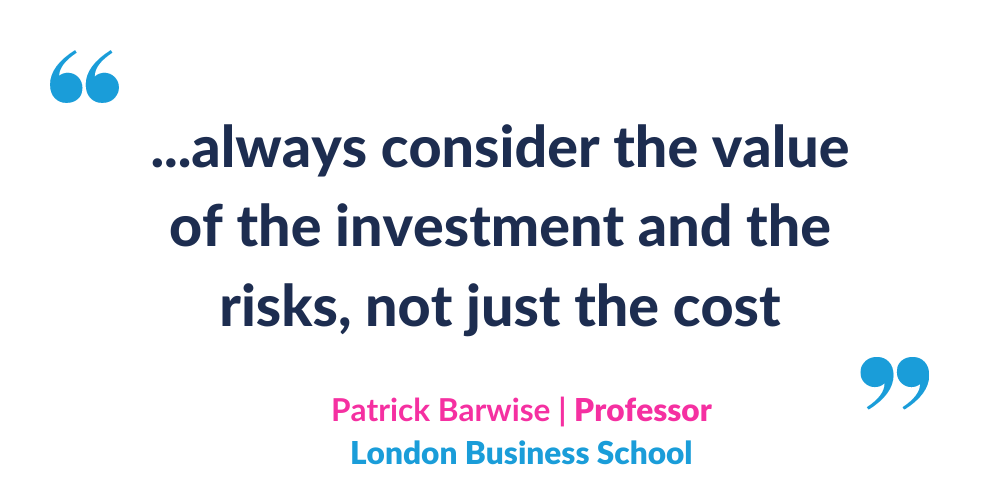 Contrary to popular belief, direct mail can be incredibly cost-effective, particularly when you take into account larger, mass and bulk mailers. 
And by working directly with a mailing house you can unlock hefty discounts on print and postage costs because of the volumes they work with on a daily basis.
Royal Mail run a number of postage incentives throughout the year which can offer large discounts, and initiatives like partially addressed mail can also significantly reduce your cost base (more on that in a bit).
Quick Turnarounds and a Range of Formats
Mail has long suffered with the reputation of being slow – Snail Mail anyone? But, depending on volume and format we can take you from data to a customer's doormat in under 48hours.
Direct mail print also allows for a wide variety of formats. From postcards to leaflets, to catalogues and magazines, from one-piece mailers to die cut shapes – your mailer can be whatever you want it to be! Check out some examples further down the page. A word of caution though, some formats will cost more than others, so format selection is important when determining campaign costs and potential ROI.
Engagement with mail is higher than ever at 96%, and the average item of mail is interacted with 4.51 times and reach is up 4% – both metrics are at their highest level ever. And a whopping 44% say they looked forward to receiving mail* .
It is official – consumers crave real, tangible and 'human' interaction.
The most important part of any acquisition campaign is getting in front of the right audience. But if you don't have your own proprietary database, or if that database isn't big enough, what can you do? What about poor quality and ageing databases? Here are some of the ways we help our customers gain a bigger reach with their marketing campaigns.
Profiling your existing database not only gives you a full understanding of your prospects and customers, it gives you valuable and tangible insight that helps you strategically plan your marketing across all channels, and to help grow your acquisition database through target personas and lookalike data.
By turning your data into valuable insight we can reduce wastage in effort, time and spend by focusing your marketing efforts and budgets on delivering compelling, effective and targeted acquisition marketing activity.
The better the data, the better the ROI – a mantra to live by.
An up-to-date and clean database means a more targeted and reliable delivery of your marketing or business critical messaging, less returned mail and reduced costs.
Think about the last time you received direct mail that was addressed to someone else:
How did it make you feel about the sender?
What if you received something addressed to someone recently deceased?
Data deteriorates very quickly – from your customers moving to bereavement, there are lots of ways that your data can become inaccurate and redundant. Before undertaking any mailing or direct marketing campaigns, it is essential to ensure your data is cleansed, up to date and fully optimised.
Data cleansing should be an integral part of every marketing plan, and we recommend that there are certain data cleansing tactics that are undertaken every time you mail, like screening against MPS, goneways, deceased and making sure to remove duplicates.
Door drops are not just affordable – they are versatile, highly targeted and effective. Once regarded as the poor relation in the marketing mix, door drops today benefit from more sophisticated audience targeting and design formats, yielding increased engagement and responsiveness from customers.
Door drops can be as small as a few streets or they can cover every household in the country.
Instead of addressing a mailing to an individual, you can mail to a household as a way to advertise to prospective new customers. Partially addressed mail is a great prospecting tool for brands looking to promote their goods, services and offers.
So, if your business has been restricted with data due to GDPR or you are looking at new ways to engage with prospective customers, this provides another route to target a larger audience and maintain your promotional activity. The bonus being it costs less than fully addressed mail.
We can use your existing database to help find the right locations that have a high likelihood of being the right audience for you. The mailings can be partially addressed to the 'occupant' or to 'holiday lover' or whatever you decide to choose.
The benefits of using Partially Addressed Mail:
Lower costs than fully addressed mail
Significantly reduced data costs
Fully GDPR compliant
CONSIDER THE WHOLE
CUSTOMER JOURNEY
Every Media Channel has its place in the customer journey and has its own key role to play. TV, for instance, drives mass brand awareness, email is great for quick updates, while social media is good for further engagement.
Mail should be strategically integrated into the customer journey, working alongside other channels to deliver the maximum value.
The Royal Mail carried out the "The Private Life of Mail" study which found that in terms of ROI, direct mail was consistent with TV adverts, but beat radio and online display adverts. It concludes that when direct mail is included within a multi-channel campaign, it results in higher sales and acquisition performance than those without direct mail.
Making the case for integrating your direct mail marketing with your digital marketing
We've all heard the claims that print is dead, that direct mail is dead due to the increase of digital marketing and advertising methods, especially email marketing. But customer communications is all about choice. People want to be communicated with via their medium of choice be it traditional letters and bills, email, text or online, and they expect their brand experience to be consistent, personalised, and seamless.
Integrating direct mail and digital campaigns can have a profound effect on your marketing efforts with direct mail being a valuable tool for the digital marketer. It has shown its value in driving online traffic, with a 70% YOY increase*. And it's not just older age-groups that are responding more to mail. The biggest rise in engagement with mail came from people aged 18 to 34*.
This increased direct mail cut-through increases the awareness of a brands digital platforms, boosting traffic to the website and social channels which, in turn, will help boost the website's SEO ratings. So, direct mail improves the visibility of your website and brand online!
And by Integrating the message across all channels – direct mail, email, social media, digital advertising, etc. – and timing them to land at the same time increases the 'Halo' effect gaining on overall larger impact.
In terms of costs and ROI, Direct mail can be a gate-opener to ongoing low-cost conversation and engagement, by moving those engaged responses to online customer communications like email to continue their engagement with the brand.
Integrating offline and online marketing
Use recent purchases or customer profile to personalise and vary your offer, artwork and imagery.
Use email to SMS to send teasers or follow ups to direct mail campaigns
Add a QR code to your direct mail piece directing them to a specific campaign landing page.
Provide a unique online offer code.
Integrate Direct Mail for abandoned baskets
Automate your multi-channel marketing
RightTrack™,
developed in house at bakergoodchild, is one of the first systems of its kind that can automatically trigger additional personalised communications, such as SMS or email, using a mail pack delivery date:
Alert a customer to a mail pack arriving that day via SMS
Strengthen your promotional messages with an automated email on the same day of mail pack delivery
Send timed SMS or email reminders based on delivery date
Delivering you a truly integrated and multi-channel customer communication strategy.
When pricing up your direct mail campaign, there are a few things to consider and options that will impact the overall cost of the campaign and therefore the Cost Per Contact (CPC):
Size of your direct mail
The weight of the direct mail
The type and weight of paper stock
Any specialist finishes
Any additional inserts into the mail pack
The number of copies being printed
The type of postage service you choose.
However, a direct mail does not cost as much as you may think, especially when you use a direct mailing specialist and mailing house.
When you post out your own direct mail is can become very costly, due to the costs of design, paper, printing, envelopes and postage. When using a direct mailing house like bakergoodchild, you benefit from the discount our bulk 'buying' afford us as we pass those directly onto our customers. We also have the best rates on postage due to the high amount of direct mail we post on behalf of our clients every year.
bakergoodchild's top tips for creating an
effective direct mail campaign
What are your objectives?
The first thing that you need to do is determine your objectives. You need to determine what you hope to achieve from your campaign. Are you hoping to attract new customers? Is there a new product or service you are excited about? Do you want your existing customers to come back more often?
Targeting
It is no secret that data is the key element in any type of customer communication, and your strongest asset when sending direct mail. Spend time identifying who you want to see your offer or message and use your data effectively to send your mailer to people who will find it relevant and most likely to engage. Look at your data for trends, for ways we can target and personalise your direct mail and direct marketing campaigns. Adding in geographical data and behavioural data such as buying history, will create a more niche target group, but one that is more relevant and will engage with your brand message.
Consider using partially addressed mail or door drops to increase your direct mail reach without the high costs associated with 'buying' data.
A strong headline
You want to grab your customer's attention as soon as your mailer lands on their doormat. It needs to be clearly seen, eye-catching and sum up what the direct mail is about. And it needs to be relevant!
Exclusive offers
Your campaign offer and calls to action (CTAs) should be compelling for your potential customers and consistent across all your marketing channels. An enticing offer is more likely to yield a response than if there wasn't one included. A discount code or a percentage off offer will attract the customer's attention immediately and is easy to understand, but other offer formats like free trials, free samples, referral schemes and BOGOF can also be effective.
Good use of imagery
Strong imagery is important for creating effective direct mail. Whether you are using product imagery or lifestyle imagery it needs to be relevant to the message being conveyed and spark some intrigue or emotion with the customer.
Research costs and define budgets
With mail, a small difference in size and construction can have a huge impact on postage costs. Good printing companies have resources available to walk you through your options and explain their impact on your mailing budget, as well as unlock postage discounts you might not otherwise be aware of.
Decide how you will integrate digital marketing in your direct mail
Direct mail plays a huge role in marketing. You need to consider how your direct mail is going to be successfully linked to your digital platforms. The way that you do this depends on your business and the nature of it. From including QR codes to using personalised URLs, there are plenty of ways to implement an omnichannel experience: drive them to download your app, visit a physical store, attend a live event or visit your website and social channels.
Don't forget tracking
How will you know if your direct mail has been effective if you don't measure its success? It isn't enough to just send out a direct mail and see if your sales increase, as there may be many other factors affecting this so you need a call to action that is measurable; a discount count, an RSVP, a free gift claim, or using a PURL. Personalised URLs are a great way to measure and retarget your direct mail recipients.
Direct mail marketing is a never-ending process (in a good way!) and it is so important to track your response rates so that you can continue to make improvements to your campaigns.
Commit to more than one mailing
Whilst this may sound like a mailing house trying to get more work, a one hit approach just doesn't work in direct mail. Studies show that response rates increase as the number of mailers sent do. It doesn't mean mailing everyone, everything – what we man is you are more likely to get a better response from mailing 1000 people 3 times, that mailing 3,000 people once.
Work with a print and mailing house specialist
By using the services of a professional mailing house you can benefit from lower postage costs. Not only do mailing houses save money on mailing through bulk postage, but they also buy consumable like envelopes, paper and ink in bulk to make savings which are passed onto their clients. The staff working at professional mailing houses will all have expert knowledge of the mailing industry. Therefore, they will be able to find the best rates and services to help save you money. If you are looking to improve your direct mailing campaign, they will also be able to provide you with helpful hints and tips which they have picked up from working on other companies' campaigns.
BRAND: Handy Mailing | CAMPAIGN: Acquisition Mailer | AGENCY: In-house
Direct mail can be (and often should be) fun if you want it to be engaged with. Mailed in a clear plastic sandwich bag, insider thereich bag was a die-cut insert that looked just like a peanut-butter and jelly sandwich, along with a fun, creative message.
BRAND: ROYAL MAIL | CAMPAIGN: EAT OUR WORDS | AGENCY: IN-HOUSE
Marketing decision makers were sent a sweet reminder that proved DM does build a more emotive connection with customers. Recipients were sent personalised letters made of the finest milk chocolate. Giving them something to hold, read and even taste!
But remember, Mail doesn't have to be expensive or use complicated technology or printing techniques to be effective. Sometimes all you need is a plain sheet of paper and the right idea to be remembered.
BRAND: NOTONTHEHIGHSTREET | CAMPAIGN: 2019 CHRISTMAS CATALOGUE AGENCY: IN HOUSE
Online retailer Notonthehighstreet wanted to make their catalogues were an integral part of the customer experience. They created four digitally enabled catalogues that took customers straight from the page to the app, removing the need to search for a product online. All customers needed was their phone to scan and buy what they saw.
BRAND: NESTLE | CAMPAIGN: KITKAT MAIL | AGENCY: INTERNAL
Nestle sent out a mailer that was made to look like the card left by postmen when they're unable to deliver a parcel.
Instead of saying that a package couldn't be delivered, however, the mailer claimed that the package (KitKat chunky) was unable to be posted as it was 'too chunky for your letterbox'. The lucky recipients were able to exchange their card at their local newsagency for a free KitKat Chunky chocolate bar.
BRAND: GOTHENBURG HOMELESS AID | CAMPAIGN: THE HOMELESS LETTER AGENCY: GOSS GOTHENBURG SWEDEN
Gothenburg Homeless Aid created an experiential idea and delivered it through mail. They wrote letters asking for donations, but first put the letters out in the streets for a whole night. When the wet and muddy mail landed on the recipients' doorsteps, they stood out for all the wrong reasons, but also brought home to them the plight of the homeless.